Cedar Rapids Northeast Grand Opening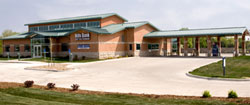 Hills Bank's Cedar Rapids Northeast location is celebrating its grand opening from May 15 - 22 at 3905 Blairs Ferry Road NE.
Environmentally responsible and energy efficient, the new building represents Hills Bank's commitment to improving the communities we serve.
"Building this new office was a great opportunity, so we were eager to take advantage of the latest technology to conserve energy," commented Joy Newhouse, First Vice President and Branch Manager, Hills Bank. One noticeable feature is the abundant use of natural daylighting. With many windows and a bright lobby, the need for artificial lighting is reduced. The orientation of the roof, office windows, and high clerestory windows takes advantage of seasonal lighting, while the Low-E (low emissivity) glazing to the windows reduce heat transfer, keeping the building cooler in summer and preserving the warmth in winter.
When artificial lighting is reduced, the use of fewer watts per square foot results in significant energy savings. With occupancy sensors and stepped daylighting control in the office and conference rooms, artificial lighting is provided only when rooms are in use.
Heat for the building is provided by a geothermal process, extracting heat from the soil for warmth in winter, then reversing the process to cool the interior in summer. Extra insulation in the walls and roof maximizes the gain. The building was designed by Brost Architects & Planners LTD.
See the newest Hills Bank location and check out the grand opening Certificate of Deposit and checking account special, along with refreshments, gifts, and prizes all week long. Call 319-294-2444 or stop by for details!
---
Cedar Rapids Chamber PM Exchange
Hills Bank's Cedar Rapids Northeast location at 3905 Blairs Ferry Road NE is hosting the Cedar Rapids Chamber PM Exchange on Thursday, May 20 from 5:00 - 7:00 pm. Join us for a Spring BBQ complete with hamburgers, brats, and plenty of cold beverages!
---
Catch Me If You Can

Upcoming Business Fraud Seminars
Be on the lookout for more details on part two of our Catch Me If You Can: Business Fraud Seminar series. Part two will feature a local attorney at law who will discuss business banking liabilities such as: risk of having employees on checking accounts as signers, risk of having employees access your checking account online, and fraud prevention tools. Contact Carrie Ebel at carrie_ebel@hillsbank.com if you would like to receive an invitation to this event.
---
Payment Card Industry (PCI) Compliance Deadline Approaching
If you currently are a Hills Bank customer who accepts credit or debit cards as a form of payment at your business through Hills Bank, you MUST read this. Prior to July 2010, all businesses accepting cards must be PCI compliant. Per regulation, failure to be compliant will result in the inability to accept cards as a form of payment. Learn more by downloading this PCI Compliance PDF, or contact the Hills Bank Commercial Support Specialists at 319-679-5400 or toll free at 1-866-890-3109.
---
Ask the Expert
Q. Last month I attended the Business Fraud Seminar on information security. Are there any resources available about detecting counterfeit money and steps to take if I suspect I have received a counterfeit bill?
A. According to the United States Secret Service, counterfeiting money is one of the oldest crimes in history. Carefully examining the money you receive can prevent you from becoming a victim of this crime.
Below are a few documents the United States Secret Service has developed to help you detect counterfeit currency and guard against forgery loss.
For information about counterfeit money and how to detect a counterfeit, visit the United States Secret Service at www.secretservice.gov or the United States Bureau of Engraving and Printing at www.moneyfactory.gov.
source: www.secretservice.gov
Have a question? Submit it to enewsletter@hillsbank.com to have it featured in an upcoming issue.