Custom Store Value Gift Cards
If you are looking for an affordable and profitable way to promote your business consider customized store valued gift cards.
Benefits include:
Average sales increase as customers spend more and are less price sensitive.
Gift cards provide customer confidence to carry and use.
Your business becomes a destination rather than an impulse shopping excursion.
Loss is minimized because gift cards are not easily duplicated.
Gift cards can be a powerful promotional tool for a wide variety of marketing campaigns.
Gift cards encourage shoppers to Shop Locally and keep money in our communities.
There are many stored value gift card options available to businesses. If you are interested in learning more about gift cards, contact the Commercial Support Department at 319-679-5400 or 1-800-HILLSBK.
---
Shop Locally Corridor-wide Gift Card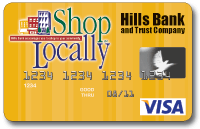 Spread the word about shopping locally! Offer the Hills Bank Shop Locally Gift Card to remind valued customers and employees the importance of shopping locally...all year long!
Reasons to Shop Locally include:
Employment - Hometown businesses employ local residents, creating jobs for you, your children, your friends and your neighbors.
Personal Service - Local merchants provide expertise and personal attention to help you find what you are looking for.
Economic Development - Every dollar spent here will circulate many times throughout the community. A dollar spent out of town is gone forever.
Quality Merchandise - When you buy locally, you know the reputation of the business. If it is not right, they will make it right.
The Hills Bank Shop Locally Gift Card is an ideal gift for employee incentives and gifts. Large quantity orders are available. Visit any Hills Bank location for more details or to get your Hills Bank Shop Locally Gift Cards.